Laramie Letters 10.5.21
Letter from the Principal
Dear San Tan Families,
Happy last week of break! I hope your break is going safely and you are enjoying it! Very excited to have the students back next week. Just as a quick reminder, we have spirit week coming up next week for our Homecoming Week! Also, don't forget to register for PikMyKid, our new dismissal app!
– Mrs. Sarah Laramie
Important Announcements 
Spirit Week
Spirit week is coming! Join us right after we return from fall break!
Monday 10/11 – Rainbow and Tie Dye Day!
Tuesday 10/12 – Crazy Sock Day!
Wednesday 10/13 – Hawaiian Day!
Thursday 10/14 – Twin Day!
Friday 10/15 – Super School Spirit Day!
Fall Break Cheer Camp
Attention all Pre-K through 4th grade families! Our Varsity and JV Cheer Squads are hosting a Fall Break Cheer Camp! Our Cheer Program is offering this Cheer Camp during Fall Break from Monday, October 4th through Thursday, October 7th with a Parent Showcase on Friday, October 8th. Camp Participants will also perform cheers during Half Time at our Varsity Football Homecoming game on Friday, October 15th (Game start time is 7pm)
The camp will be held at the Power Campus in room 604 from 4-5pm Monday-Thursday . The showcase will be at 6pm on Friday, October 8th. Parents are asked to drop off and pick up their campers in room 604 of the electives building (building between the gym and main campus building, located just north of the flagpole).
This camp is available to pre-k-4th grade students. Our pre-k participants will need a parent present during the camp. All participants are asked to bring water and athletic shoes to the camp.
To register: Please click here Fall Break Cheer Camp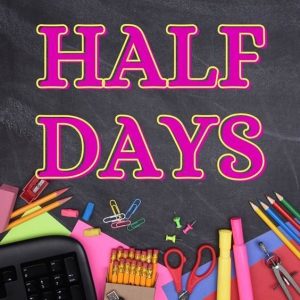 October Conferences
Just a quick point of clarification. Over the summer, while we were looking at our school calendar, we decided to move our conference days to Monday, Tuesday, and Wednesday (October 11th-13th) following October Break rather than the Wednesday, Thursday, and Friday (October 13-15th) following the break. So, October 11th-13th are half days where we dismiss 11:00-11:30.
We are asking parents to help support our staff by providing dinner items during the evening of our late-night teacher conferences in October. Our theme for the late night on Tuesday, October 12th is a Picnic Theme. Our teachers will be getting a dinner break from 4:30-5:30. We have 70 staff members on campus this year. To sign up, please click the link below. We sincerely appreciate any and all donations.
October Late Night Conference Teacher Dinner Donation
Child Care
Are you looking for fun, active, and safe activities for your kids on our half-day Parent Teacher Conference days? San Tan Charter School – Recker Campus is excited to once again offer our three day "Half-day Conference Camps for Kids." With fall breaks, and half days coming up, here is the link for camps for the semester for child care.
https://yqysjrrxph.formstack.com/forms/aug_dec_half_day_camp
Yearbooks
Our 2021-2022 PreK-12 San Tan Yearbooks are on sale now. It will include a 15th-year commemorative section and options for students and families. Begin planning and designing yours now. Visit our storefront link here: https://store.shopyearbook.com/santan-yb
Have pictures for the yearbook? Submit them at the following link
https://uploads.picabooyearbooks.com/9510573
CPR Class
We will also will be offering a CPR, AED, and Bloodborne Pathogens class on Saturday October 9th at 10AM. 
The $25 fee includes the online portion that must be completed prior to the two hour in person session on Saturday October 9th. To sign up and pay please use this formstack https://yqysjrrxph.formstack.com/forms/cpr_firstaid_bbp
Again please contact (mstevens@santancs.com) if you have any questions.
Next certification course dates TBD.
Athletics Family Pass
All High School games have a gate fee of $5 per adult and $3 per student/child. For the convenience of our families, we will be offering Athletic Family Passes for the immediate and non-immediate families of our San Tan Athletes. The options include $50 per season or $100 for the year. Tickets may be purchased for immediate family members (i.e., parents/guardians and siblings under 18). All other non-immediate family members (i.e., grandparents, aunts/uncles, cousins, etc.) are also welcome to purchase a family pass for entrance into the games. To purchase your family pass please click HERE.
Guest Teachers
We need guest teachers to fill in when our teaching staff is out ill. If you would like to guest teach for us, please email Ms. Lapadura at blapadura@santancs.com to get back on the list for this school year.
Athletic Sponsorship
Would your business or family like to support our STCS Roadrunner Athletics Program by becoming an athletic sponsor? We have a variety of sponsorship packages that allows entry for any budget. This is a great way to promote your business while supporting our San Tan Athletes. For more information about becoming a sponsor or to initiate the process, please click here Athletic Sponsorship.
I think we can all agree that we have AMAZING staff at STCS Recker Campus. We would love to hear from you all the wonderful things that the staff are doing so please click the following link to give our staff a "Shout Outs". Frost Gelato has generously donated gift cards to help reward out staff members after they have received a shout out!
https://forms.gle/BYB9N5DWSCKnxaoT6
Helpful Links
Become an Athletic Sponsor- Click Here to Donate
Spirit Gear – Do you need school spirit gear to wear on Spirit Fridays? Click Here to Purchase
January Late Night Conference Teacher Dinner Donation
Field Trip Links
Phoenix Children's Museum (K and Kinderversity): Due October 13th, 2021
https://yqysjrrxph.formstack.com/forms/phoenix_children_museum_field_trip
Wildlife World Zoo & Aquarium (Mainstream and Gifted 3rd): Due October 5th, 2021 https://yqysjrrxph.formstack.com/forms/wildlife_world_zoo_field_trip
JA BIZTOWN (Mainstream and Gifted 4th): Due October 7th, 2021
https://yqysjrrxph.formstack.com/forms/ja_biztown_field_trip
American Heritage Festival (Mainstream and Gifted 5th Graders): Due October 27th, 2021
https://yqysjrrxph.formstack.com/forms/american_heritage_festival_field_trip
Kartchner Caverns (Mainstream and Gifted 6th Graders): Due October 19th, 2021 https://yqysjrrxph.formstack.com/forms/kartchner_caverns_state_park_field_trip
Social Media Links 
Facebook- San Tan Charter School Family Connection
Facebook- Mrs. Laramie Principal Recker Campus
Instagram- Mrs. Laramie Principal Recker Campus
Mrs. Sarah Laramie, M.A.  
Principal, Recker Campus
Doctoral Candidate, Grand Canyon University
San Tan Charter School
3959 E. Elliot Rd.
Gilbert, AZ 85234
Phone:  480-222-0811
"Education is the most powerful weapon which you can use to change the world"- Nelson Mandela