Press Release – Academic Support Initiative
FOR IMMEDIATE RELEASE                                                             August 18, 2021
Contact:  Kristofer Sippel
CEO/Superintendent of Schools
San Tan Charter School Inc.
480-222-0811
San Tan Charter School Offers Students Extra Help and Support to Help Them Get Caught Up in their Learning and Socialization
From Staying After School to Work Directly with Students and Investing in a New Curriculum that Can Detect Gaps in Learning, the Teachers and Staff at San Tan Charter School are Devoted to Each and Every Student
GILBERT, Arizona—At San Tan Charter School, the teachers all know first-hand how challenging school has been over the last year for many students of all ages.  Because of the COVID-19 global pandemic, students and staff alike had to quickly pivot, learning to navigate online classrooms and a new form of learning.
To help ensure that each and every one of the school's 900-plus students is able to catch up—both academically and socially—San Tan Charter School is now offering extra help and support in a number of ways.
As Sarah Laramie, Principal of the school's K-6 Recker Campus notes, she feels it is the school's "moral imperative" to give students the support they need to get caught up after COVID-19.
"Our students deserve to have all of our time and talent devoted to helping them succeed," she said, adding that the school's teachers are equipped to give students added interventions through approaches like staying later to give students extra time and purposeful planning to make sure adequate time is devoted to academics.
"San Tan has always believed in the success of students, we just needed to hone our focus to help our students be even more successful."
Prior to the first day of school on July 28, Laramie said she and other staff members looked closely at the school's testing scores over the last two years in order to identify any clear gaps in the students' knowledge.
"We began the year with a data walk to look at the trends in data in the last three years. With this knowledge at hand, we crafted our goals for the year out of our school mission statement," she said.
Brandon Tauscher, Principal of the school's 7-12 Power Campus, said San Tan spent tens of thousands of dollars on a new English Language Arts curriculum that will be a powerful tool in helping to get students caught up.
"The curriculum is powerful in that it is able to differentiate to students' levels to help everyone access grade-level content, even if students may be missing some foundational skills in reading," he said, adding that the goal is to have students up to their current grade-level by the end of the school year.
In addition to the new curriculum, Tauscher said the staff met in-person two weeks ahead of the start of school to learn more about the in-house assessments they would use to group kids for interventions and to see where students specifically need help.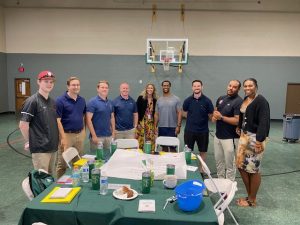 "Using that data, we can create before/after school interventions to help students fill gaps in instruction, and our staff has committed to making this happen," he said.
To help prepare students for the recently-adopted ACT test for 11th grade and the ACT Aspire 9th grade as its statewide assessment, San Tan teachers at the Power Campus also all took comprehensive training this summer in-person to become ACT Certified Educators.
"This will better help prepare our students for the new state assessment as our teachers have worked to become certified to help with the test," Tauscher said.
San Tan Charter School was also inspired to adopt new ways to help students get back up to speed academically from concerns raised by parents, Laramie said.
"Parents have been very concerned with getting students caught up and seeing it in black in white in our data was a powerful motivator for all of us to institute some changes," she said.
Laramie and Tauscher are both grateful for and appreciative of the support they have received from the entire staff in regard to the new learning goals.
"They not only are willing to go above and beyond in support of their students but also keep generating more ideas on how to support our students. Our teacher's and staff's excitement and dedication are palpable this school year and I cannot wait to see all of the results from their hard work," Laramie said.
"It was extremely impressive to see our staff, pre-K through 12, come back to campus with such enthusiasm to make this happen after what was an incredibly challenging year last year," Tauscher said.
***ADDITIONAL PHOTOS AVAILABLE UPON REQUEST***For more information about San Tan Charter School's commitment to helping students catch up academically and socially, and/or to interview principals or teachers about the new curriculum, please contact Kris Sippel at 480-222-0811.
About San Tan Charter School:
San Tan Charter School is a Kinder-12th grade public non-profit tuition free charter school with two campuses in the East Valley within minutes of each other. The Power campus is a Junior High/High School serving students in grades 7-12 and the Recker campus is an elementary school serving students K-6 including a private Montessori preschool and K-6 tuition free Montessori classrooms. The school uses a Love and Logic® approach to classroom management that is focused on building relationships and communicating with respect. The school focuses on "Education with a Purpose," which means the teachers encourage their students' love of learning, which enables them to face challenges and develop critical thinking skills. San Tan Charter School also offers a championship athletics experience 5th through 12th grade and PE daily K-6. San Tan Charter School is focused on maximizing each student's intellectual development with a Gifted program K-12, Honors/AP classes, Concurrent/Dual Enrollment classes and elective choices including career and technical education (CTE)-Culinary and Aviation as well as the opportunity for Juniors and Seniors to attend EVIT half day. For more information, please visit https://santancharterschool.com/