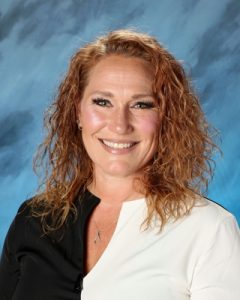 Jutem McCollumElectives Teacher

Arizona State University
Major in Communication, Minor in Spanish, and Minor in Business
My Bio
Hello my name is Jutem (pronounce je t'aime in French- yes it means I Love You- what a name to live up to!) I have two biological children that attend San Tan Charter High School, out of school I have five older children, and nine grandchildren. One of my grandsons just started at the Recker campus. I've been dancing for over four decades all genres. I was Miss Chandler in my youth, have acted on stage and have even performed off Broadway, I modeled for a time during my youth, and have won numerous awards and accolades in not only dance, drama, public speaking, and sales. I have been teaching one thing or another for over thirty years.
I grew up in Payson Arizona by the way of Southern California. After graduating from Payson High, I went directly to Arizona State University. During my years at ASU I began competing in ballroom dancing where I was scouted for a professional dance partnership that took me all over the world, after I graduated with several degrees. Retiring to have children after I was in the top 12 in the world. I continued to teach (I do have my own studio) and run my healthy cooking company (34 years in - and loving it).
I've never worked for someone, I've been a competitor, performer, entrepreneur and have owned my own businesses. I have instructed many in the arts of acting, dancing, performing, public speaking, sales etc but only in professional scenarios. At the prompting of my children I subbed last year and built some relationships with the students. When asked to take over the department I jumped in, if I've spent all this time pouring all of this information into myself and cannot share it with the next generation, I believe – what would be the point? One student at a time….
When I'm not teaching at San Tan, I'm either teaching people how to retain on average 93% of the nutrients in their food by doing healthy cooking shows for them, or teaching dance in my studio, or just hanging with my family. I love social dancing, games, crafts, hiking, yoga and travelling. My tastes are eclectic and I love to learn about other cultures by submersing myself within that culture.
Birthday: July 3rd, almost a firecracker
These are a few of my favorite things.....
Color(s): To wear black, to look at Purple, light blue, dark green
Flower(s): Roses
Healthy Snack(s): Yes! Veggies and fruit -most all types
"Junk Food" Treat(s): I usually don't but a great cheese cake I can't say no to
Drink(s): Water, Green Tea
Scent(s)/Essential Oil(s): Jasmine
Game(s): Card games with family, Pictionary, interactive games
Sit-Down Restaurant(s): Thai food/ Sushi
Fast Food Restaurant(s): No thank you
Place(s) to Receive a Gift Card: Starbuck (love the green tea), Hobby Lobby
Most used school/office supply: paper towels, journals for the kids
What I would really like is: I would really like to make as big of an impact on some of my students that my hero teachers made on me. I'd like to be that positive voice that cheers them on, what they hear in the future that pushes them outside their comfort zones to accomplish amazing things.
Heroes: My mother, my father, my high school drama teacher
Hobbies: Dance, crafts, travelling, theater, spending time with family and friends.