SAN TAN'S MONTESSORI PROGRAM
Your child is unique. Their education should be, too.
WHY SAN TAN?
Our Montessori program begins as early as 14 months and follows your child through 3rd grade (soon to extend through 6th grade). Your student also has the opportunity to transition to our attached Charter School which extends through 12th grade.
In our Montessori classrooms, Teachers and Assistants carefully and beautifully orchestrate your child's achievement through independent, small and large group learning opportunities.
We've infused our highly sought-after Montessori preschool with the Love & Logic approach. This unique combination of programs teaches students how to build relationships, set clear expectations with Teachers and peers, and develop personal responsibility and problem-solving skills. Learn more about Love & Logic >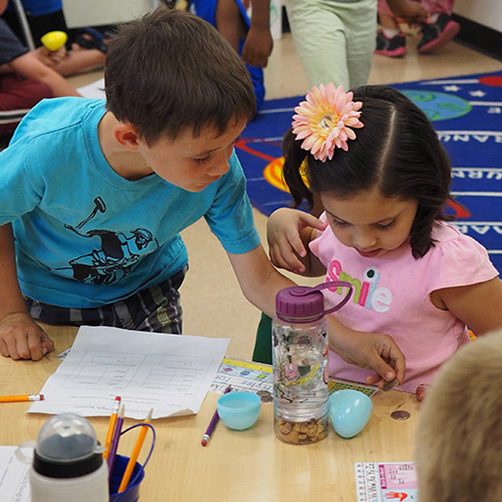 LEARN MORE ABOUT OUR PROGRAMS
TESTIMONIALS FROM OUR MONTESSORI PROGRAM
We are so happy with our decision to send our daughter to San Tan Montessori. We started her right at 18 months and she has just thrived. It is so much fun to watch her do things completely on her own and get so excited to see her friends. The teachers and staff are amazing and so knowledgeable about the Montessori way of doing things! I know my daughter is not only well taken care of and getting the best possible education, but she is loved as well. San Tan Montessori and San Tan Charter School are both incredible learning institutions that I can't speak highly enough about.

Parent

We joined the San Tan family in 2013 with 1 kiddo in mainstream Kindergarten and 1 in Montessori Preschool. It was so great having both kids at the same school, whereas in most other situation, we would have been driving to two different schools. We immediately felt like part of the family and knew STCS was the right choice for us. Our kiddos have completely different personalities and educational strengths and weaknesses. We have been able to work with the staff and teachers to ensure they are in the right programs to fit their needs. So far, we've experienced Montessori Preschool and Elementary, Gifted Elementary and Middle School, and Mainstream Elementary and Middle School.

Parent
We'd love to show you around our Montessori schools to see if San Tan Montessori is right for your family. Sign-up below to schedule a no-pressure tour with one of our staff members.