TOP-RANKED ATHLETICS WITH A HOMETOWN FEEL
We're dedicated to your student and the athlete within.
San Tan Charter School is dedicated to the success and development of your student, whether it's on the court or in the classroom. Just like our academic programs, we meet athletes at their current skill level and encourage growth from there.
With over 20 sports programs plus intramurals, our San Tan family rallies around athletes at home and on the road.
Taking your student from 5th through 12th grade, the San Tan Athletic program has successfully helped several student athletes secure athletic scholarships at colleges of their choice.
Our Roadrunner Varsity Basketball team is a two-time defending champion for Division 1 and Division 2 Basketball, holding a 47 – 1 total record.  We are proud to advance to Division 3 for the 2018 – 2019 season and are looking forward to playing against some excellent competition.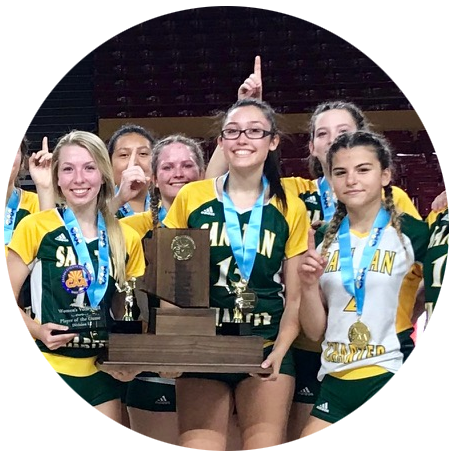 LEARN HOW ATHLETICS INFUSE WITH OUR CULTURE
WHY CHARTER SCHOOL ATHLETICS?
STCS is affiliated with the Canyon Athletic Association (CAA), a corporation for non-traditional schools, such as our charter school. The CAA provides strong competition for our athletes while still granting them the collegiate exposure at the high school level.
We're committed to allowing all students to explore their interests, so we don't have cuts in our athletic programs. If more athletes are interested than a program needs, our intramural programs are in place to allow brand new players to build and refine their skills.
Thanks to the small-town feel of our charter school in Gilbert, AZ, it's easy for us to cultivate camaraderie and a family-like culture around our athletic teams. We'd love to have you join us at our next Roadrunner event!
LEARN MORE ABOUT OUR SPORTS PROGRAMS
Without a doubt best school in Gilbert! Caring staff and teachers! They always teach outside the box!

Parent

Between all 4 of my kids attending San Tan, we have officially been in every grade between K-12th!!! I have loved it all, and am so proud of how San Tan has grown…it just keeps getting BETTER!

Parent of students in 2nd, 4th, 10th, 12th

Great school. Truly has the kids education as the highest priority.

Parent

Great administration, great teachers, fun sports and activities, the gifted program and the mainstream program are both AMAZING. Been here for years, so glad we found the school. They are great educators. Highly recommend.

Parent of student's in 7th & 4th

We've been very happy since moving our daughter to STCS two years ago. She feels very successful academically. Great supportive teachers and staff. We've had a great middle school experience and we're looking forward to her joining the new campus.

Parent of 7th grader

San Tan has made a huge impact on not only my life but my family's and I would never change that for anything, because I probably wouldn't have achieved half the stuff I've done now. It's not only an honor but a blessing to be here at San Tan. Being able to be a role model to all the young kids, having such a positive influence on this school, I couldn't have done it without the help from Dr. Sippel and his amazing staff. And I appreciate everything that San Tan Charter School has done for me.

Recent Graduate

So grateful to have found this school where all three of our kids will be able to go for K-12. Love the various classroom options and the Love and Logic used throughout the school. Thank you!

Parent

This school has been a blessing for our family. Can't wait to see what the future holds for this place. My daughter will graduate a Roadrunner!!!

Parent

My granddaughter has excelled in this school. She loves to get up and be there.

Grandparent

Love everything about this school. Students have their own individual learning plans. Couldn't ask for a better school for my child.

Parent
We'd love to show you around our campus and see if San Tan Charter School is right for your family. Sign-up below to schedule a no-pressure tour with one of our principles.