Laramie Letters 5/4
Letter from the Principal
Dear San Tan Families,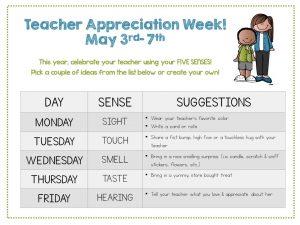 Happy Teacher Appreciation Week! Another exciting week at the Recker Campus is upon us! This week we have a half day on Friday so please keep in mind that dismissal is from 11:00-11:30. To honor our teachers, we are taking the teachers to Culinary Drop Out in Downtown Gilbert for a nice luncheon. Have a wonderful week!
– Mrs. Sarah Laramie Important Announcements 
Move Up Day Information
On Monday May 17th, we are planning a "Move Up" Day for students. This will be a period of 45 minutes where students will visit the following grade level teachers to get them excited for next year! For example, first graders will visit the second grade teachers. Our Sixth graders have already done their "move up day" at the Power campus so they will have a PE block during this time.
Donor's Choose
In honor of Teacher Appreciation Day, today ONLY Sonic is doing a 1.5x Match on Donor's Choose! If you are interested in donating to an open teacher project, the following projects are active for the Recker Campus.
School Supplies for Next Year
San Tan is kicking off its annual back to school fundraiser that will save you money while making your life easier! Pre-order your child's school supplies now and they will magically arrive in your child's classroom at the Meet the Teacher Night on July 21st. Please see attached flier to order!
Gifted Information Night
When:  Tuesday, May, 11th
Time:    6:30 – 7:30pm
Where:  Google Meet
meet.google.com/osh-qkxf-bne
Or dial +1 336-914-1037 PIN: 775 359 103#
RSVP:   Click Here
Our annual gifted information night will be virtual this year, please mark your calendars and RSVP if you are interested in attending and learning about your gifted children and our K-12 gifted program.
~San Tan is offering a Gifted Information Night to help answer your questions and to help prepare you for next year.  During this meeting, we will introduce you to our teachers, our self-contained gifted model, as well as introduce you to the services offered at the middle school and high school level.  Additionally, we will offer an overview of the different enrichment programs available and answer any questions or concerns you may have.
~The Gifted Information Night is targeted towards those entering the gifted program and those who wish to learn more about San Tan's Gifted Program.  We would like to take a moment to welcome our new additions to San Tan's Gifted Program!   We understand that you may have many questions about our program and what 'gifted' really means.
Enrollment
Current family enrollment is going on right now!! Please take the following steps to save your student's spot for the 2021-2022.
Chicken Coop Cam
Make this a part of your daily routine. Check in with our fine feathered friends and learn about all our friendly chickens by clicking here!  https://recker.santancharterschool.com/outdoor-environment/
Helpful Links
Donor's Choose
Donate Today!
Arizona Tax Credit Form
Become an Athletic Sponsor- Click Here to Donate
Spirit Gear – Do you need school spirit gear to wear on Spirit Fridays? Click Here to Purchase
Dates to Remember 
5/3-5/14 District MAP Testing
5/7 Half Day Dismissal at 11:00
5/14 5th and 6th grade final assignments due
5/17 Move Up Day
5/17 Awards and Pep Assembly
5/19 District Graduation Day

Kinder Graduation at 9 am Recker Campus
Eighth Grade Graduation at 4 pm Power Campus
Senior Graduation at 7 pm Power Camps

5/20 Last Day of School Half Day Dismissal at 11:00
5/26-5/28 Parent Teacher Conferences
Athletic Dates to Remember 
Mrs. Sarah Laramie, M.A.
Principal, Recker Campus
Doctoral Candidate, Grand Canyon University
San Tan Charter School
3959 E. Elliot Rd.
Gilbert, AZ 85234
Phone:  480-222-0811