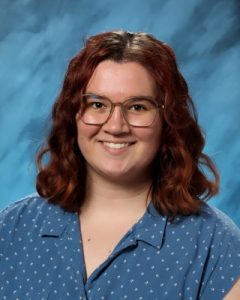 Taylor GabrielSocial Studies Teacher

Arizona State University
BA in Anthropology
My Bio
Hi! My name is Taylor Gabriel and I'm thrilled to be teaching social studies at San Tan! MY favorite things to do are reading, cooking, and camping. I am married to my best friend, Ryan, and we have several fur babies together. We enjoy hiking, baseball games and going on fun adventures. 
Birthday: December 30th
These are a few of my favorite things.....
Color(s): Purple and blue
Flower(s): Wildflowers and roses
Healthy Snack(s): Berries
"Junk Food" Treat(s): Jalapeno chips
Drink(s): Tea(iced and hot but not sweet)
Scent(s)/Essential Oil(s): Eucalyptus, lavender and bergamot
Game(s): Breath of the Wild on Nintendo Switch
Sit-Down Restaurant(s): Babbo
Fast Food Restaurant(s): Starbucks
Place(s) to Receive a Gift Card: Starbucks and Amazon
Most used school/office supply: Expo markers and sticky notes What I would really like is: Coffee/tea paraphernalia
Heroes: my dogs, my sisters and my mom
Hobbies: Reading, hiking, and cooking