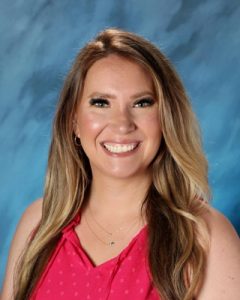 Sarah LaramieRecker Campus Principal

Grand Canyon University, Quinnipiac University
Doctor of Education in Organizational Leadership, B.A. in History, M.A in Teaching, Elementary Education
My Bio
Mrs. Laramie has a wide variety of teaching and leadership experience which creates respect and trust amongst her staff and families. Since joining the organization in 2013, Mrs. Laramie has taught kindergarten, second grade, fourth grade, middle, and high school history as well as Model UN electives. Her range of teaching experience has given her practical strategies on curriculum across grade levels, best intervention techniques, as well as classroom management across settings.
Mrs. Sarah Laramie has a strong passion for her work as a school administrator. This was evident during her Teacher on Assignment position with our school assistant principal from 2015-2018. During her time as a Teacher on Assignment, Mrs. Laramie balanced leading many leadership teams, school improvement projects, master schedule planning, and open house events while simultaneously giving her all to the students in her classroom. Mrs. Laramie was named Elementary Assistant Principal for the 2018-2019 school year. The following year, Mrs. Laramie assumed the role of Principal.
Mrs. Laramie is passionate about being the best possible administrator for her staff and community needs. Mrs. Laramie has worked tirelessly to build relationships with staff, faculty, families, and community members. She focuses on processes, and procedures, building her leadership team, refining events, strengthening school culture, and celebrating student and staff success.
Mrs. Laramie is a lifelong learner who is always on the hunt for strategies or techniques to help her students, faculty, or school community be the best. Mrs. Laramie is a mother to two beautiful daughters, Charlotte and Cecilia, and a wife to Mike.
Birthday: February 16th
These are A Few Of My Favorite Things…..
Color(s): Pink
Flower(s): Pink Peonies and Blue Hydrangeas
Healthy Snack(s): Popcorn and Cucumbers
"Junk Food" Treat(s): Chocolate Covered Pretzels
Drink(s): Coffee
Scent(s)/Essential Oil(s): Peppermint, Vanilla and Lemon
Game(s): Football (Go Patriots!)
Sit-Down Restaurant(s): Any Sushi Restaurant
Fast Food Restaurant(s): In-N-Out, Jamba Juice and Starbucks
Place(s) to Receive a Gift Card: Amazon
Most used school/office supply: Flair Pens
What I would really like is: Spa Day
Heroes: My Parents
Hobbies: Spending time with my husband and daughters, yoga, and painting