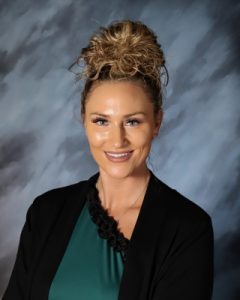 Nicole RevlingPower Student Success Coordinator/Head Volleyball Coach

New Mexico Highlands University
Masters in Human Performance and Sport
My Bio
Hi, my name is Nikki Revling I am a mother of two daughter's, Taaliyah and Teagyn.
I am a coach at heart and enjoy every second of teaching our youth how to compete at a high level and be a teammate at the same time. Competitive sports can be such a rush for athletes. The ability to show them how to channel their energy into something positive is the most amazing feeling.
When I am not teaching, I enjoy watching my two daughters grow, spending time with friends and family, coaching volleyball, working out, and traveling.
I feel lucky to meet and get to know all my new students and their families. I look forward to another fun-filled year!
Birthday: November 2nd
These are a Few of my Favorite Things ........
Color(s):  Baby(Light) Pink
Flower(s): Pink Roses
Healthy Snack(s): Cliff Bar, Almonds, banana
"Junk Food" Treat(s): Cookies any kind
Drink(s): Sweet Tea
Scent(s): Cherry
Family/Summer Activity: going to the Beach
Game(s): Monopoly,
Sit-Down Restaurant(s): Ra Sushi, Texas Road House, Serranos
Fast Food Restaurant(s): Chipotle
Place(s) to Receive a Gift Card: Amazon
Animal(s): Dog
Most used school/office supply: Sharpie
What I would really like is: a high five
Heroes: Super Girl
Hobbies: playing volleyball