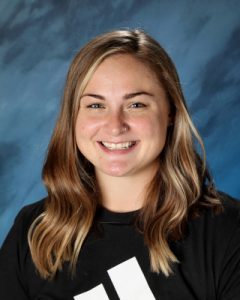 Natalie JensenPhysical Education Teacher

St. Paul College
AA: Exercise and Sport Science
My Bio
My name is Natalie Jensen. I am from Minnesota. I am your classic midwest girl who enjoys nature and applying myself physically, creatively and mentally to anything I do. 
 I recently graduated with an AA in Exercise and Sports Science. I have a love for the mountains and I love to hike which is why I moved to Arizona. Music is another life passion of mine and I like incorporating music when working with kids.  I am a health and fitness coach in my spare time. 
Birthday: October 9th
These are A Few Of My Favorite Things…..
Color(s): army green/maroon
Flower(s): Roses
Healthy Snack(s): Bell Peppers
"Junk Food" Treat(s): Oatmeal Raisin Cookies
Drink(s): Raspberry pure leaf tea
Scent(s)/Essential Oil(s): anything lemon
Game(s): Rummikub 
Sit-Down Restaurant(s): Olive Garden
Fast Food Restaurant(s): Subway
Place(s) to Receive a Gift Card: Target
Most used school/office supply: Highlighter
What I would really like is: To make new friends in Arizona since I am brand new to the state.
Heroes: My Grandma
Hobbies: Music, hiking, weightlifting, walking around the lakes