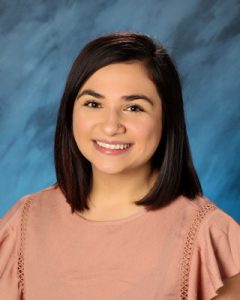 Mayra NavarreteInfant Teacher
My Bio
My name is Mayra Sujey Navarrete I have recently joined San Tan Charter School a few months ago. I am really excited and blessed to start my new journey. I recently moved here from Washington with my fiancé Jesse Magana and our 3 beautiful children Isabella Melody and Benji. In high school back in Washington I worked in childcare for 4 years. I have children of my own so I've learned so much from them as well. I had always said I wanted to be in a job working with children.
Birthday: August 27th
These are A Few Of My Favorite Things…..
Color(s): Pink, Black, White 
Flower(s): Roses 
Healthy Snack(s): Walnuts 
"Junk Food" Treat(s): Chocolate 
Drink(s):  Water, Powerade, Wine
Scent(s)/Essential Oil(s): Vanilla, Hazel Nut 
Game(s): Loteria, UNO, Jenga
Sit-Down Restaurant(s): Yogis Grill, Olive Garden 
Fast Food Restaurant(s): Taco Bell, Panda Express
Place(s) to Receive a Gift Card: Costco, Amazon
Most used school/office supply: Glue, Paint 
What I would really like is: To form a bond with the children like I have with my kids
Heroes: God 
Hobbies: Hiking, Cooking, Running