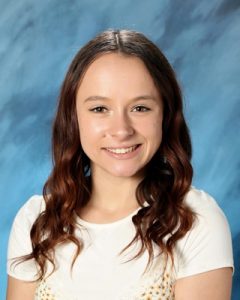 Madison WilsonMontessori Assistant (Kinder)
My Bio
My name is Madison Wilson.
I am one of the Montessori  kinder assistants. I also am the head Junior high volleyball coach hear at San Tan Charter School. I am currently enrolled at ASU where I am in my final year pursuing my degree in Family and human development. I grew up here in Mesa Arizona and even attended San Tan Charter School. During my free time I enjoy baking and playing volleyball. When I'm not doing either of those things, I'm Probably hanging out with my dog Kuzco or my amazing group of friends! I am so excited to be at San Tan and can't wait for an amazing year!!!
Birthday: December 14th
These are a few of my favorite things.....
Color(s): Purple
Flower(s): Sunflowers
Healthy Snack(s): Apples
"Junk Food" Treat(s): Salt and Vinegar Chips
Drink(s): Diet coke
Scent(s)/Essential Oil(s): Lavender
Game(s): Monopoly
Sit-Down Restaurant(s): Cheesecake Factory
Fast Food Restaurant(s): Del Taco
Place(s) to Receive a Gift Card: Target
Most used school/office supply: Tracing paper
What I would really like is: A memorable year
Heroes: My dad
Hobbies: Volleyball & Baking