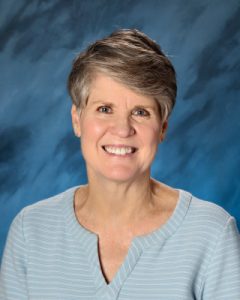 Leslie Risan Gifted 5th - 6th Grade ELA & SS Teacher

Arizona State University
Bachelors Degree in Elementary Education
My Bio
Hello, my name is Leslie Risan.  I am teaching 5th and 6th Grade Gifted Language Arts and Social Studies this year. These kids are my people.
I grew up in Arizona and, raised my family here, worked in health insurance and then returned to the University to become a teacher. 
My husband and I are Arizona natives and have four boys, five grandchildren and a goofy dog. We love spending time outdoors, both in Gilbert and in the mountains near Payson. My favorite hobbies are gardening and reading and reading and reading.
My commitment to you and your child is to maximize their learning potential. By using Love and Logic teaching principles and rigorous, relevant curriculum, your gifted students will learn strategies that will serve them well throughout their academic careers. I believe in thinking deeply and creatively and having fun through hands-on projects.
I look forward to partnering with you to provide an awesome 5th and 6th grade experience for your child.
---
Birthday: July 9
These Are a Few of My Favorite Things:
Color(s): Yellow
Flower(s): Carnations
Healthy Snack(s): Hummus and veg, Apples
"Junk Food" Treat(s): Chocolate, Potato Chips
Drink(s):Iced  Green Tea, Dr. Pepper
Scent(s)/Essential Oil(s): Lighten, Lemon, Peppermint, Lavender
Game(s): Kings in the Corner, Peg Solitaire, Petanque, Hide and Seek
Sit-Down Restaurant(s): Ra Sushi
Fast Food Restaurant(s): Costa Vida
Place(s) to Receive a Gift Card: Target, Amazon
Most used school/office supply: Ticonderoga Pencils
What I would really like is: a hug, a smile, a sincere thank you
Heroes: Soldiers, Sailors in self-less service to our country
Hobbies: Gardening, Hiking, Reading