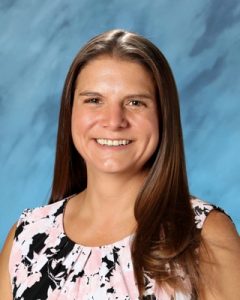 Kristin Vega5th Grade Teacher

Arizona State University and Walden University
Bachelor Degree in Elementary Education, Masters Degree in Curriculum, Instruction and Assessment and Ed.S. in Administration
My Bio
Hello! My name is Kristin Vega and I am so excited to be teaching the 5th grade this year at San Tan Charter! I have two daughters, Evelyn (9) and Olivia (7) who are excited to continue their journey at San Tan Charter School! I have been teaching for quite some time. I started teaching 6th grade Language Arts in 2006 then took a break in 2013 to stay home and love on my girls. I'm so excited that my return to teaching has brought myself and my family to San Tan Charter, an amazing community!
I grew up in Indiana and moved to Arizona in order to attend Arizona State University. At ASU I earned a Bachelor Degree in Elementary Education. I have lived here since 2006 and love the mountains and the ability to visit cooler climates without having to shovel snow! In 2009, I earned a Master's Degree from Walden University in Curriculum, Instruction and Assessment, as well as, an Educational Specialist in Administration and Leadership in 2012.
I consider myself a lifelong learner and love teaching because it allows me to share my passion for learning with others. My goal is always to make learning fun and engaging! I love to see the children become independent learners while finding ways deepen their own curiosity and knowledge.
When I'm not teaching, I enjoy spending time with my friends and family, exercising, hiking, running, doing arts and crafts with my girls, playing board games or card games, reading, and watching movies! I'm extremely excited to meet all of my students and their families! See you soon!
Birthday: November 28
These are a few of my favorite things.....
Color(s): all shades of blue
Flower(s): Lilies and Hibiscus
Healthy Snack(s):  Mozzarella cheese and tomatoes, cucumbers and laughing cow cheese, pretzles
"Junk Food" Treat(s):  Ghirardelli chocolate with caramel filling
Drink(s): La Croix - lime, hazelnut COFFEE (all coffee really), Four Silos coffee
Scent(s)/Essential Oil(s): I love the smell of baked goods, cinnamon, lemon
Game(s): Monopoly, Five Crowns, Just Dance, and Sim City
Sit-Down Restaurant(s): Lou Malnati's Pizzeria and Cooper's Hawk
Fast Food Restaurant(s): Subway
Place(s) to Receive a Gift Card: Amazon, Old Navy, Barnes and Noble
Most used school/office supply: expo markers, Card stock, printer paper
What I would really like is: Amazon gift Cards
Heroes: my parents
Hobbies: exercising, running, crafts, and upcycling furniture