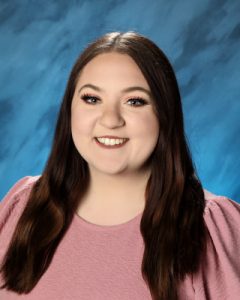 Jorie McQuaidElectives Teacher

Scottsdale Community College (Will graduate 2021)
Associates of Fine Arts Degree, Theatre
My Bio
Hello! My name is Jorie McQuaid and I am thrilled to be teaching drama and show choir here at San Tan Charter School. I have been married to my wonderful husband Grant since 2019 and we recently moved to Chandler, Arizona. 
I grew up in Euless, Texas and moved to Phoenix when I was 13. I have been involved in theatre since before I can remember! It didn't take long for me to fall in love with the performing arts! I have worn many hats in theatre, with experience as an actress, drama teacher, director, choreographer, stage manager and theatrical makeup designer.  
I am excited to teach at STCS because I believe that students in Theatre arts develop skills that enable them for success in the real-world and allow them to thrive. These skills include teamwork, leadership, time management, public-speaking, integrity, discipline and resilience. 
My goal as a teacher is to foster these values so that students build character and confidence through their own artistic journey. Theatre not only benefits the students, but also their teachers, parents, families, friends and our communities as they will be equipped to serve as future leaders in society. 
When I'm not teaching, I love spending time with friends and family, planning trips to Disneyland, shopping and watching musicals!
Birthday: July 30th
These are A Few Of My Favorite Things…..
Color(s): Black, green
Flower(s): Roses
Healthy Snack(s): Veggies with ranch
"Junk Food" Treat(s): French fries
Drink(s): Coffee, water
Scent(s)/Essential Oil(s): Lavender, cedarwood
Game(s): Uno, Scrabble
Sit-Down Restaurant(s): Abuelos, Outback steakhouse, Oreganos
Fast Food Restaurant(s): Freddy's, Culvers, Panera Bread
Place(s) to Receive a Gift Card: Hobby Lobby, Ulta, Starbucks
Most used school/office supply: Pencils!
What I would really like is: To spend a week in New York just to watch Broadway shows!
Heroes: Jesus & my hubby!
Hobbies: Spending time with friends/family, planning trips to Disneyland, traveling, shopping, video games.