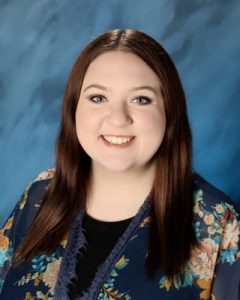 Jorie McQuaidMusic and Drama Teacher

Scottsdale Community College
Associates in Arts, Fine Arts, Emphasis in Theatre
My Bio
Hello, my name is Jorie McQuaid and this will be my 2nd year teaching at San Tan.  I live in Chandler with my amazing husband, Grant, and our two chihuahua's, Peanut and Crash!
In addition to teaching Show Choir, Drama and Dance, I am also the director of our Theatre Arts program which puts on a fall play, and a spring musical each year open to all 7th-12th students at San Tan. I am excited to continue teaching because I believe that students involved in the performing arts develop skills that enable them for success in the real world, such as teamwork, leadership, time management, public-speaking, integrity and discipline.
When I'm not teaching, I enjoy spending time my friends & family, planning my next Disneyland trip or watching a musical.
Birthday: July 30th
--- My Favorite Things ---
Color(s): Black, Gray
Flower(s): Roses
Healthy Snack(s): Veggies with ranch
"Junk Food" Treat(s): French fries
Drink(s): Coffee, water
Scent(s)/Essential Oil(s): Lavender, cedarwood
Game(s): Uno, Sorry, Scattegories
Sit-Down Restaurant(s): Chili's, Outback, Barrio Queen
Fast Food Restaurant(s): Chick Fil A, Canes, Panera
Place(s) to Receive a Gift Card: Harkins Theatres, Ulta, Starbucks, Target
Most used school/office supply: Pencils!
What I would really like is: The gift cards mentioned above… 😉
Heroes: Jesus!
Hobbies: Spending time with friends/family, planning trips to Disneyland, traveling, video games.