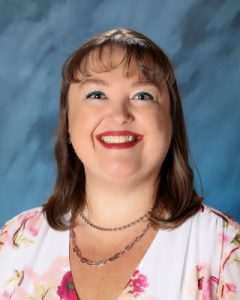 Jennifer MadiganPower Campus Front Desk/Health Aide
My Bio
My name is Jennifer Madigan and my husband and I have lived in Arizona for 20 years. I am originally from the Chicagoland area. Our son and his girlfriend and our daughter and her fiancé both live back there, where they work and go to school. We are big sports fans who love the Bears and Cubbies, but love the Cardinals and Diamondbacks as well (just not when they play each other!)
I have walked 6 Susan G Komen 60-mile Breast Cancer Walks, training 1,000 miles for each of them. I walk in a Pancreatic, Colon and Breast Cancer 5k every year…so I am the fundraising Queen! I love to bake and cook; my cheesecake is award-winning.
Birthday: July 27th
These are A Few Of My Favorite Things…..
Color(s): Pink or Sparkle…anything glittery
Flower(s): Lilies, roses, daises
Healthy Snack(s): popcorn, all fruits, granola
"Junk Food" Treat(s): milk chocolate, caramel, chocolate-covered raisins, chocolate-covered pretzels
Drink(s): Iced Tea – black or peach flavored
Game(s): Scrabble, Yahtzee, card games, Sudoku
Sit-Down Restaurant(s): AZ BBQ, Flancer's, Zin Burger, Nico's
Fast Food Restaurant(s): Culver's, Wendy's, Dairy Queen
Place(s) to Receive a Gift Card: Amazon, Starbucks, Dutch Bros., Hobby Lobby, Michaels, Barnes & Noble
Most used school/office supply: Fun pens, highlighters, note pads
What I would really like is: I LOVE homemade anything!
Heroes: My Parents & Grandparents
Hobbies: Baking, Crafting, Reading, Traveling, Party Throwing, Watching Movies, Walking/5Ks