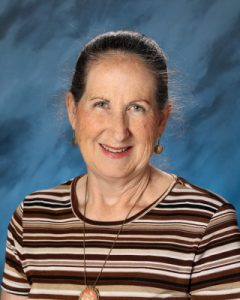 Jeanne EvansRecker Campus Registrar
My Bio
I believe in the mission of charter schools and their ability to support their teachers and students in a family atmosphere.
Once my kids were in a charter school, I loved it as a parent.  I started as a school volunteer, and it evolved into a full time position. Over the last 20 years I have supported multiple schools as their office manager, nurse, attendance, and registrar.
I am a mother of 6 with 4 boys and 2 girls. I have 8 grandchildren and I love to camp, craft, work on puzzles and learn new things.
Birthday: January 15th
These are A Few Of My Favorite Things…
Color(s): red/blue
Flower(s): gardenia
Healthy Snack(s): Avocado, popcorn, carrots, Colby cheese, strawberries/bananas
"Junk Food" Treat(s): Fritos, peanut M&M's, brownies, DIY choco chip cookies
Drink(s): Vitamin water, OJ + pulp, DIY Lemonade
Scent(s)/Essential Oil(s): flowery, cucumber, citrusy, EO's
Game(s): Rage, Scrabble
Sit-Down Restaurant(s): Serrano's, Olive Garden, Empire Asian Bistro, Red Robin 
Fast Food Restaurant(s): Chipolte, Wendy's, Los Favos
Place(s) to Receive a Gift Card: Hobby Lobby, Amazon
Most used school/office supply: pens/pencils
What I would really like is: Spending time with family and friends
Heroes: Jesus Christ, Prophets, the Founding Fathers, First Responders
Hobbies: crafts, camping, gardening, learning new things