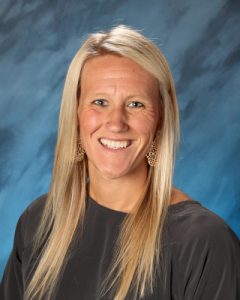 Janie TomasekK-12 Electives Teacher - PE/Art

Elmhurst College
Bachelors in Fine Arts
My Bio
Hello! My name is Janie Tomasek and I am excited to be teaching Art and P.E. for my first year on this side of San Tan Recker Campus.  Two years ago, I was an Assistant in the Toddler classroom in the Montessori side.  I have always loved being around children watching them grow and become their own individuals.  As someone who has played sports all their life (especially volleyball), I have always have had a passion in being a P.E. teacher.  Then also getting the ability to teach Art this year too.  
I grew up in Illinois and attended Elmhurst College where I earned my Bachelor of Fine Arts.  In 2014, I moved out here to be closer to my Niece and Nephew and to get away from the cold and snow.  
When I'm not teaching, you can find me working out, swimming, hiking, relaxing at home and enjoying time with my niece and nephew.  I enjoy working out especially running; so far I have run in 8 half marathons, 15ks, 10ks and little 5ks.  I also coach volleyball at San Tan and Club volleyball.  I have been coaching for 18 years now.  Go Road Runners!! Let this year begin! 
Birthday: March 6th
These are a Few of my Favorite Things ........
Color(s): Turquoise
Flower(s): Lilies
Healthy Snack(s): Blueberries, Strawberries, Bananas, Red/Yellow Peppers, Carrots
"Junk Food" Treat(s): Hershey Bar, M & M plain
Drink(s): Chai Tea with Soy, Gatorade Zero
Scent(s): Bamboo Bliss, Lavender oil, freesia petals and rain
Game(s): Uno
Sit-Down Restaurant(s): Tia Rosa, Salernos, Flancers
Fast Food Restaurant(s): When I do eat fast food which is rare its Taco Bell
Place(s) to Receive a Gift Card: Target, Amazon
Most used school/office supply: Marker Felt point, paint
Heroes: My Mom
Hobbies: Coaching Volleyball, playing volleyball, enjoying a nice dinner out, and new  movies