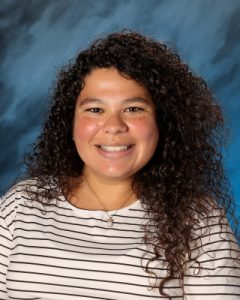 Jamie HinchMontessori Teacher (1st -3rd)

Northern Arizona University, Houston Montessori Center
BS in International Hospitality Management and a Minor in Business, AMS Elementary 1 Certification
My Bio
Hello, my name is Jamie Hinch and I am extremely excited to join the San Tan Montessori Program as a Lower Elementary Lead Teacher. 
I am an Arizona native born in the border town of Nogales. I graduated from Northern Arizona University with a degree in International Hospitality Management and a minor in Business. I had the exciting opportunity to work for Walt Disney World as a food and beverage manager. I then came back to Arizona and worked in various position including First Things First, which lead to my desire to work with children. I joined a Montessori school as an assistant, received my Certification from Houston Montessori Center, and have been a lead teacher for four years. My mission has always been to help each child reach his or her full potential and to become an independent learner. 
My husband Justin and I currently have two sons, Jayce and Jacob, who will also be attending San Tan Charter School. Jazper is set to join our family at the beginning of the school year. 
Birthday: April 25th
These are A Few Of My Favorite Things…..
Color(s): Red
Flower(s): Hibiscus
Healthy Snack(s): Dark Chocolate, popcorn, watermelon  
"Junk Food" Treat(s): Late July Sea Salt and Lime tortilla chips, dark chocolate peanut M and M's
Drink(s): Water with lots of crushed ice, unsweetened tea 
Scent(s)/Essential Oil(s): Mango, cinnamon apple, coconut 
Game(s): Phase 10, Sorry, watching the Diamondbacks or my boys play baseball
Sit-Down Restaurant(s): Abuelo's
Fast Food Restaurant(s): Chick-Fil-A, Panera Bread, Salad and Go
Place(s) to Receive a Gift Card: Target, Amazon, Starbucks
Most used school/office supply: Colorful pens
What I would really like is: A trip to the beach
Heroes: My mom
Hobbies: Cooking, going to the moves, puzzles, hanging out with my family