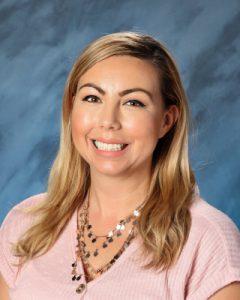 Jamie DosseyMontessori Toddler Teacher

Attended North American Montessori Center
My Bio
Hi! My name is Ms. Dossey and I am the Lead Montessori Toddler teacher! This is my second year teaching at San Tan Charter and my fourth year working with toddlers. I love preschool and all the exploring, learning and fun we get to have. I grew up in sunny southern California and moved to Arizona 20 years.  I have two beautiful children, Ava who is 8 and Jaxson who is 6. Last year we got a puppy who is a maltese/shih tzu mix and we spend a lot of our time playing and chasing him around. I can't wait to spend this year learning and growing with you!
Birthday: November 23rd
These are A Few Of My Favorite Things…..
Color(s): Purple
Flower(s): Gerber Daisy
Healthy Snack(s): Almonds
"Junk Food" Treat(s): Oreo Cookies
Drink(s): Coffee
Scent(s)/Essential Oil(s): Lemon Verbena
Game(s): Pictionary
Sit-Down Restaurant(s): Rubios
Fast Food Restaurant(s): Taco Bell
Place(s) to Receive a Gift Card: Target
Most used school/office supply: Crayons
What I would really like is: World Peace, A trip to Fiji, A helicopter ride over the Grand Canyon
Heroes: Oprah
Hobbies: Hiking, Scrap Booking