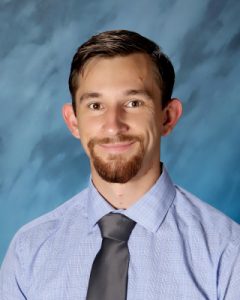 James LagermanMath Teacher

Arizona State University
Bachelor's of Science in Geological Science
My Bio
Hello there! I am Mr. James Lagerman, and I currently work as a Math Teacher at STCS! I am a very easy-going guy who loves a good joke and enjoys to help make others laugh. I enjoy playing just about any type of game out there, from video games to board games as well as lawn games. And, while I tend to be shy around new people, I love the opportunity to connect with new people!
I spent my school years growing up in Mesa where I went to school at Dobson High School. I have always enjoyed a good, friendly competition, and played soccer and tennis throughout my high school years. I continue to play these sports as well as ultimate frisbee, volleyball, and kickball, alongside just about any other sort of outdoor games. After graduating high school in 2011, I chose to go to Arizona State University to study Geology. In college, I took part in many intramurals and recreational sports on the campus' athletic fields, as well as several hiking and camping trips to various wilderness areas as a part of my field of study.
Birthday: September 9th
These are A Few Of My Favorite Things…..
Color(s): Royal Blue, Scarlet
Flower(s): Cherry Blossom
Healthy Snack(s): Bell Pepper, Cucumber
"Junk Food" Treat(s): Reese's 'Fastbreak' Bar, Hot Wings
Drink(s): Mountain Dew Voltage, Cherry Vanilla Dr. Pepper
Scent(s)/Essential Oil(s): Vanilla Bean
Game(s): Halo, Call of Duty, Dungeons & Dragons
Sit-Down Restaurant(s): Islands Burgers & Drinks, Mido Sushi
Fast Food Restaurant(s): Wendy's, Filiberto's
Place(s) to Receive a Gift Card: TopGolf, Bowlero
Most used school/office supply: White Board Erasers
What I would really like is: To travel abroad in Europe to try the various foods and drinks.
Heroes: Captain Planet, Lionel Messi
Hobbies: Soccer, Tennis, Volleyball, Games with friends, Guitar, Church.