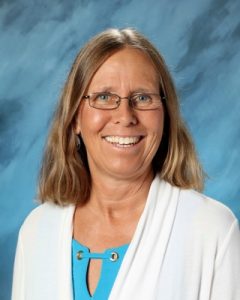 Danielle HirepanForeign Language Teacher

Northern Arizona University
Master's in Education with BLE emphasis
My Bio
My name is Danielle Hirepan and I am from a small suburban town in Ohio between Cleveland and Akron. After graduating High School, I attended community college for a semester and then joined the United States Army where I received training to become a medic. After serving in the military, I moved to Arizona and got married. I have three children, all grown up now, and one wonderful grandson who is three and half years old now and counting. 
While my children were growing up I attended the Mesa Community College and volunteered in my children's classrooms.  After earning an Associate of Arts in General studies I went on to earn a Bachelor's Degree in Education from Ottawa University. In the meantime, I worked as an Instructional Assistant in the Mesa Public School District. Upon graduation from Ottawa, I worked as an elementary school teacher in the Alhambra and Mesa School District at Title One Schools for a total of nine years in predominantly Hispanic schools. It was a love for this culture and wanting to be able to communicate with my mother in law (who spoke Spanish only) that led me to learn Spanish. While I was still working for Mesa Public Schools I earned my Master of Arts in Education with a Bilingual Emphasis from Northern Arizona University. In 2010 I moved to Payson, Arizona and was a guest teacher and also taught Gifted classes for children in grades K-6. In 2019, I had the opportunity to work for the Gilbert Public School District teaching high school Spanish. It was there that I found my niche. I love teaching foreign language and I love teaching high school!
Birthday: October 4th
These are A Few Of My Favorite Things…..
Color(s): Blue (think Carribean) Green (think nature)
Flower(s): Carnations and daisies
Healthy Snack(s): apple with peanut butter, carrots and hummus
"Junk Food" Treat(s): Rice Crispy Treats, Mounds Bars, Dark Chocolate covered espresso beans
Drink(s): Pina Colada (though I'm allergic to alcohol), Green Juice (I call it Hulk Juice), Coke
Scent(s)/Essential Oil(s): Lavender and Peppermint
Game(s): Scrabble (Spanish and English), Settler's of Catan
Sit-Down Restaurant(s): Caldwell Barbecue, Waffle House, Happy Family Chinese
Fast Food Restaurant(s): Arby's, Sonic, In and Out Burger
Place(s) to Receive a Gift Card: Amazon, Starbucks, Walmart, Costco
Most used school/office supply: Ticonderoga pencils, spiral notebooks, glue sticks
What I would really like is: A vacation in the Carribean and an offshore numbered account! 
Heroes: Barrack & Michelle Obama, Martin Luther King Jr., Ghandi, Maya Angelou
Hobbies: Swimming, Kayaking, Boogie Boarding, Woodworking, Reading