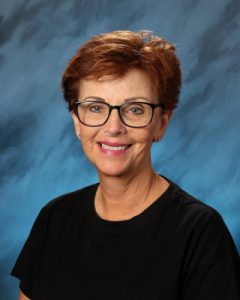 Carol PageRecker Campus Office Manager

Brigham Young University
Associate
My Bio
Hi!  My name is Carol Page and I'm the office manager at the Recker campus.  
I have worked in a school front office environment for many years and I have been at the Recker campus for six years. I enjoy very much interacting with our extremely talented and dedicated teachers and administration here at San Tan Charter School.  And I love working with your children.  A day never goes by that one of them doesn't put a smile on my face.  It's my favorite job in the whole world.
I have 5 amazing children and 11 very sweet grandchildren.  I love to spend time visiting them.  I am a sports fan and my husband, Greg, and I enjoy watching football, basketball and baseball together.  We love to go to movies, out to dinner and traveling.  We feel very blessed to live here in Gilbert and have such wonderful friends.  I also have a dog named Georgee, whom I love very much, too!
Birthday: November 11th
--- My Favorite Things ---
Color(s): Navy, forest green, black/gray
Flower(s): Gerber Daisies
Healthy Snack(s): Popcorn
"Junk Food" Treat(s): Milk chocolate
Drink(s): Caffeine-free Diet Coke
Scent(s): Musky-floral
Game(s): Mexican dominoes
Sit-Down Restaurant(s): Serranos Mexican Restaurant
Fast Food Restaurant(s): In and Out
Place(s) to Receive a Gift Card: Any lunch place, no Starbucks : )
Most used school/office supply: Sticky notes
What I would really like is: A day at the beach!
Heroes: My Mom
Hobbies: Traveling to see my kids/grandkids.  Watching the AZ Cardinals play.