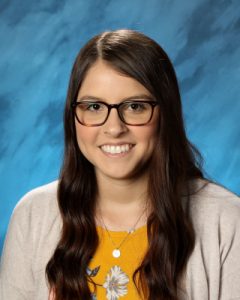 Brooke TaylorCounselor

University of Oregon
Bachelor of Arts in Psychology
My Bio
Hello! My name is Brooke Taylor and I am a proud native of this beautiful state! I started at San Tan Charter School as a classroom assistant in 2009 and worked here until I left to attend college at the University of Oregon in 2011- GO DUCKS! Once I completed my Bachelor's degree in Psychology, I moved back to Arizona and underwent training for the Motor²Cognition (MC²) program previously offered at San Tan.
In 2015, in addition to running the MC² program, I also became the lead teacher for our Art Department, while also starting my journey in Counseling. When we moved over to the Power Campus, in 2018, I enjoyed my new role so much that I took on the Counseling Department full time! Having the opportunity to support our secondary students through their high school and early college journey for the past 6 years has really been a humbling and fulfilling experience for me. Helping students find their passion and rise to their full potential is really rewarding and I'm grateful I get to continue to be a part of that process!
Aside from work, some of my favorite things to do when I get this thing called "free time", include: reading, doing arts and crafts, jigsaw puzzles, and spending time with my family playing games. When I feel like watching a movie, my first choice will always be Romeo and Juliet or Independence Day. Then, if I'm in the mood to pick up a book, I'll always reach for a good mystery, usually written by Mary Higgins Clark. After enjoying a good movie or finishing a great book, I love getting something to eat at Raising Cane's, Oregano's, or any BBQ place- YUM!
Birthday: April 20th
--- My Favorite Things ---
Color(s): Red or Purple
Flower(s): Lilies or Sunflowers
Healthy Snack(s): Oranges
"Junk Food" Treat(s): M&Ms and Salted Caramel Chocolate Squares
Drink(s): Dr. Pepper and Strawberry Lemonade
Scent(s): Cinnamon
Game(s): Jigsaw Puzzles and Card Games
Sit-Down Restaurant(s): Oregano's or any BBQ place!
Fast Food Restaurant(s): Raising Cane's
Place(s) to Receive a Gift Card: The Coffee Shop, Michael's, Hobby Lobby
Most used school/office supply: Flair Pens and Dry Erase Markers
What I would really like is: A large corkboard for planning purposes.
Heroes: My Mom
Hobbies: Crafting, Swimming, Knitting