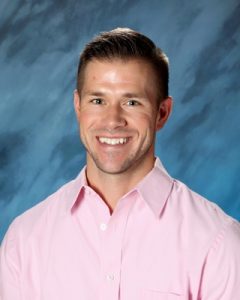 Brandon LindemulderRecker PE Coach/Head Soccer Coach

Dordt University
Bachelor of Arts K-12 Physical Education
My Bio
Hello! My name is Brandon Lindemulder and here's a little bit about me. I've taught Physical Education for 8 years and I also love coaching and can't wait to use those gifts as well for any opportunities that might come up.
I grew up in Lansing, IL and then from there went to Dordt University in Sioux Center, Iowa, where I received my Bachelor's degree in Physical Education. In 2017, I moved out here and taught K-8 PE at Grace Christian Academy, where I was also the Athletic Director. My wife and I currently live in South Phoenix and we both really enjoy being outside and getting that Phoenix sun.
I really love teaching Physical Education because it not only allows me teach my students different skills in a number of different sports and activities, but also when it comes to health concepts where they can take what they have learned and use that knowledge outside of the classroom as well. I have a strong passion for coaching sports as well and I love to see my players and teams try their best and watch them grow in what they are learning.
When I'm not teaching, I love being outside and go to the pool, hiking, playing soccer, working out, hanging out with friends and family, and watching my Chicago sports teams. I can't wait to get to know my students and families and get the exciting school year under way!
Birthday: September 6th
These are a few of my favorite things.....
Color(s): Blue
Flower(s): Sunflower
Healthy Snack(s): Protein Bars
"Junk Food" Treat(s): Skittles
Drink(s): Lemonade or Chocolate Milk
Scent(s)/Essential Oil(s): Peppermint or Lavender
Game(s): Code Names
Sit-Down Restaurant(s): BJ's
Fast Food Restaurant(s): Chipotle
Place(s) to Receive a Gift Card: Dick's Sporting Goods or Nike Store
Most used school/office supply: Gym Equipment
What I would really like is: All functioning PE equipment
Heroes: My parents
Hobbies: Playing sports, working out, watching tv shows