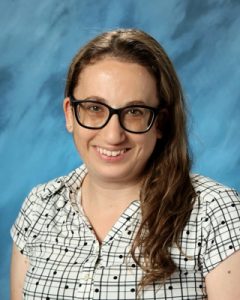 Audra SeinMontessori Primary Teacher

Gonzaga University, Arizona State University, Southwest Institute of Montessori Studies
B.A. in Psychology, M.Ed. in Elementary Education, M.A. in Curriculum and Instruction: Literacy Education, AMI Casa dei Bambini (Primary) diploma
My Bio
I'm Audra.  I was born and raised in Chandler, Arizona.  I have branched out a little over the years, though.  I went out of state for my undergraduate degree to Gonzaga University in Spokane, WA.  During my time there, I spent an academic year studying abroad in Florence, Italy, which allowed me to see much of Europe.  It was an amazing experience.  In my early twenties, I spent two years teaching second grade on a small island called Saipan…in between the Philippines and Australia.  This also proved to be an amazing experience.  I have three cats…all of which I adopted while on Saipan and had shipped back to Arizona.  Their names are Jives, Guava, and Papaya, and I love them all dearly.  I am a huge Disney fan.  My mom and I go to Disneyland/Disney California Adventure together at least once a year.  I also love to read, and I aspire to write a book of my own someday.  
Birthday: January 14th
These are a few of my favorite things.....
Color(s): pink and sea green 
Flower(s): roses, lilies
Healthy Snack(s): sun butter and rice crackers, apples, cheese and crackers
"Junk Food" Treat(s): chocolate
Drink(s): Coke, Dr. Pepper
Scent(s)/Essential Oil(s): vanilla, island scents
Game(s): I like board games: Ticket to Ride, Villainous
Sit-Down Restaurant(s): Serrano's, VinciTorio's
Fast Food Restaurant(s): Carl's Jr. (they have a Beyond Meat burger), Chipotle
Place(s) to Receive a Gift Card: Target, Lowe's, Amazon, Bath & Body Works
Most used school/office supply: Post-It Notes, Sharpies, laminator
What I would really like is: to go to Disneyworld, to go to the AMI refresher course
Heroes: Dr. Martin Luther King, Jr., Dr. Maria Montessori 
Hobbies: gardening, reading, writing