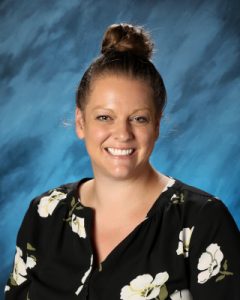 Ashley Fernandez2nd Grade Teacher

University of New Mexico
B.S. Early Childhood Multicultural Education
My Bio
Hi! My name is Ashley Fernandez and I am so excited to be a part of the San Tan family. Teaching is my passion and I truly hope to make learning each of my students'. I work hard to create meaningful and engaging lessons that my students enjoy.  I work collaboratively with other teachers to make sure that my lessons reach each and every student in a way that stimulates their learning style.  I hope to challenge your student and help them be proud of themselves and continue to strive to learn more on a daily basis. 
I was born and raised in Albuquerque, New Mexico and moved to Arizona in 2007 to teach after graduating from the University of New Mexico. I took a quick detour and moved to North Dakota for a year and a half in 2018, but quickly realized that Arizona is home! 
My husband Kurt and I have 3 amazing kids.  Caleb is 19, Preston is 4, and Raedyn just turned 6 months.  As a family, we enjoy taking road trips and playing pokemon go.  A fun fact about me is that I have never been to the East Coast or out of the country.  My dream is to one day visit New York City and Santorini, Greece.  When I am not teaching or spending time with my family, my favorite thing to do is grab a cup of coffee and browse the aisles at Target. 
Birthday: October 15th
These are A Few Of My Favorite Things…..
Color(s): Black
Flower(s): Calalilly
Healthy Snack(s): Popcorn
"Junk Food" Treat(s):Reese's or anything chocolate
Drink(s): Black Rock (cookie cold brew with ½ and ½) Starbucks (Pink Drink)
Scent(s)/Essential Oil(s): coconut, lavender, peppermint
Game(s): Pokemon Go
Sit-Down Restaurant(s): Postino
Fast Food Restaurant(s): Chick Fil A
Place(s) to Receive a Gift Card: Target
Most used school/office supply: Colored Sharpies
What I would really like is: A Trip to the Beach!!
Heroes: My Husband
Hobbies: Shopping, spending time with my kids, road trips