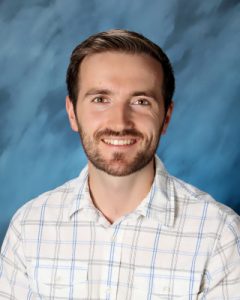 Andrew RisslerChief Technology Officer

Liberty University
Master's in Business Administration (MBA)
My Bio
I started working at San Tan 7 years ago as the school's Technology Director. I've been supporting teachers and students with technology successfully inside and outside the classroom. I have a deep respect for all our teachers and have a passion for supporting them so they can focus on inspiring the next generation.
I grew up in a rural farming community in Pennsylvania in a family of 13 children and two great parents who homeschooled us all! Since moving to AZ, I've met my wife, Hayley and we were blessed with our first child, Griffin, in 2017. It is so fulfilling to see him learn and grow every day as he attends the Montessori Preschool program here at San Tan.
My wife and I are excitedly waiting for Rissler #4 to arrive in the summer of 2020! I look forward to all the adventures our family will get to experience as we grow. I enjoy traveling, hiking, and relaxing with my family of three. I love photography and I've had the opportunity to snap pictures in England, Wales, France, Germany, and Belgium! In the Spring of 2017, I also had the opportunity to visit Italy for the first time with my wife and a group from San Tan!
Birthday: August 17th
These Are a Few of My Favorite Things…..
Favorite Color : Navy Blue
Favorite Flower : Rose
Favorite Snack : Doritos
Favorite Drink : Lemonade
Favorite Scent : Spearmint
Favorite Music : Alternative/Acoustic
Favorite Activity : International Travel & Hanging out with friends/family
Favorite Game : Chess
Favorite Sit-Down Restaurant : Joe's Farm Grill, but I also enjoy any Mexican or Asian Food
Favorite Fast Food Restaurant : Chic-Fil-A
Favorite Place To Receive A Gift Card : Kohl's
Heroes : Martin Luther King, Jr. & C.S. Lewis (for his work as a Christian apologist)
Hobbies : Photography, foreign language study, apologetics research, technology sales and research, reading classic literature, and hiking