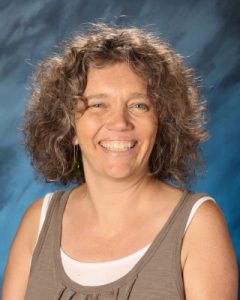 Amy Trowbridge1st Grade Teacher

SUNY- New Paltz and Lesley University
BS, Elementary Education and M.Ed., Elementary Education
My Bio
Welcome to First Grade! I am Ms. Trowbridge and I am excited to begin the school year. Originally, from the East Coast, I earned a BS and M.Ed. in Elementary Education. Over the years, I have taught kindergarten, third grade and many other grades. Being a first grade teacher has been a dream of mine for a long time. This year, my plan is to introduce my students to many wonderful books and inspire my learners creatively. Having children think creatively encourages deeper thinking about the curriculum.  I am also thrilled to see my students grow as readers and writers this year.  Besides reading, I work with clay, love visiting with family and friends, and enjoy cooking at home.
I look forward to our partnership this school year.
Birthday: November 6th
These are A Few Of My Favorite Things…..
Color(s): Purple
Flower(s): Sunflowers and Lilacs
Healthy Snack(s): Popcorn
"Junk Food" Treat(s): Dark chocolate, chips and salsa
Drink(s): Starbucks and Lacroix seltzer
Scent(s)/Essential Oil(s): none
Game(s): UNO
Sit-Down Restaurant(s): Union Grill or Boca Taqueria
Fast Food Restaurant(s): Chipotle or Pita Jungle
Place(s) to Receive a Gift Card: Amazon
Most used school/office supply: Dry erase markers
What I would really like is: everyone to feel peace and happiness during these uncertain times. Moving forward together.
Heroes: My mom and sister
Hobbies: Clay and paint work, yoga, cooking, reading, spending time with family and friends.