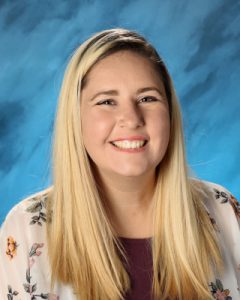 Amanda CastilloSocial Studies Teacher

California Baptist University
Bachelor's in Political Science, Master's in Education
My Bio
Hello!! My name is Amanda Castillo. I am thrilled to be joining the San Tan community. I was born and raised in Southern California and moved here last summer with my husband and two daughters. I attended and graduated from California Baptist University- Lance Up!! I received my Bachelor's in Political Science and my Master's in Education. I am the oldest of ten children, so I say I have been teaching all of my life. However, I have only been in a formal classroom for five years. I have taught every grade from preschool through high school, the older kids are my favorite. I am super excited to be teaching US History and Government this year, history has always been my favorite subject to teach and learn. When I am not teaching, I enjoy spending time with my family—hiking, swimming, enjoying the outdoors. I also enjoy scrapbooking, reading, cooking/baking, and watching documentaries.
Birthday: September 17th
These are A Few Of My Favorite Things…..
Color(s): Pink, Yellow, Black, Gold
Flower(s): Sunflowers and Roses
Healthy Snack(s): Peanut butter/Dark Choc Kind Bars, Fruit
"Junk Food" Treat(s): Chocolate Covered Pretzels, M & Ms, Brownies
Drink(s): Coffee, Black Tea Unsweet, Coke/Pepsi, WATER
Scent(s)/Essential Oil(s): Lemon, Eucalyptus, (anything fresh/clean)
Game(s): Board Games-Clue, Monopoly, Uno
Sit-Down Restaurant(s): Olive Garden or Chillis
Fast Food Restaurant(s): Panera, Five Guys, Chick Fil A
Place(s) to Receive a Gift Card: Target, Michaels, Teacher Stores, Amazon
Most used school/office supply: Post its, Colorful pens
What I would really like is: Historical books/magazines for my classroom
Heroes: My Grandma
Hobbies: Hiking, scrapbooking, reading, cooking/baking, watching documentaries